Thanks to Araucana chickens, we can enjoy the blue and green eggs. Today, many chicken breeds and crossbreeds lay a tinted blue or green egg because of Araucana chicken ancestors.
Did you know?
All blue colored eggs can trace their ancestry back to an Araucana ancestor. The Ameraucana chicken also lays blue eggs, but is a direct ancestor of the Araucana chicken.
Araucana chickens are extremely rare in the United States. Most of the Araucana chickens sold in the U.S. are not 100% purebred. That's because the Araucana breed has a fatal gene that causes a high mortality rate in the chicks. Because of that gene, most Araucana chickens that are sold are not purebred.
The History of Araucana Chickens
The Araucana chicken breed has a very mysterious past. Araucana chickens descend from very old Chilean chicken breeds. Tribes in the Andes raised these unique chickens that lay blue eggs.
But the mystery doesn't end there. In a recent scientific study, the same Chilean chickens were shown to share a unique DNA sequence as chickens in Polynesia. Did ancient Chileans share their chicken with the Polynesians or vice versa? We really don't know, it remains a mystery.
In the 1900s Dr. Bustros started developing the breed. He took two different breeds: the Colloncas and the Quetros.
He was able to develop a beautiful chicken with neck tufts and no rump.
But, the gene combination that helped to produce the neck tufts was fatal. Chicks with two copies of the fatal gene almost always died and chicks with only one of the genes have a 20% mortality rate.
Today, purebred Araucana chickens have between a 25-50% mortality rate.
That's why most hatcheries don't sell or breed purebred Araucana chickens. Instead, they sell a cross-bred that they label as an Araucana chicken.
Araucana chickens weren't brought into the United States until after the 1950s. As a result, they aren't considered a heritage breed. (The American Poultry Association considers only breeds accepted prior to 1950 to be heritage breeds)
However, since the origins of the breed are very ancient and date back thousands of years, they are usually referred to as a heritage breed.
Beautiful Blue Eggs
The Araucana chicken lays a deep, gorgeous blue egg. According to the APA, the eggs must be a deep blue or turquoise egg. Any other shade or color doesn't qualify. They are instead considered an Easter Egger.
The gene that produces the blue egg originates in the highlands of the Andes. Throughout the years, many chicken breeds have been crossed with these Chilean ancestors to produce varying colors of blue eggs.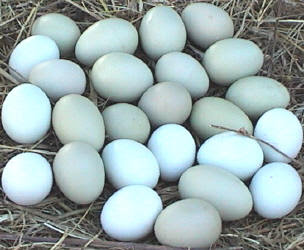 Their descendants can be found as far away as China.
In Northern America, the Ameraucana chicken breed is a blue egg layer that is accepted as a real breed. Ameraucana chickens lay a pretty blue egg and don't have as high of a mortality rate. Plus the egg is blue all the way through, and not simple on the outside.
Breeders have been successful in mostly eliminating the fatal gene. But, even purebred Ameraucana chickens are fairly rare.
Purebred Ameraucana and Araucana chickens are rare and costly

Araucana eggs are blue all the way through the shell!

May also be called the South American Rumpless
Araucana chickens come in five colors that are recognized by the American Poultry Association. They come in black, white, silver duckwing, black breasted red, and golden duckwing.
The Difference Between Araucana Chickens And Easter Eggers
Instead, Easter Eggers have become the widespread descendants of Araucana and Ameraucana chickens.
Easter Egger chickens are not a real breed. They are basically any chicken with at least one ancestor that was Ameraucana or Araucana chicken. Easter Eggers can be found at nearly any hatchery and they offer varying colors of blue or green eggs.
Easter Eggers usually don't have as vibrant of a blue color and may often lay a green egg, a result of intensive cross-breeding with other chicken breeds.
But, Easter Eggers are still fun to raise and hatch because of their colored or tinted blue and green eggs.
If you encounter Ameraucana or Araucana chicks that are priced around the same price as other chicks, then you can be assured that they are actually Easter Egger chicks. It's a prettier way to say "mutt" chick or "full ancestry unknown."
You may also encounter misspellings of Araucana such as Aracana, Aracauna, Auracauna or other ways of spelling it. These mis-spellings indicate that the chicks are not purebred. Breeders do the same with Ameraucana chickens. You will find Americanas, Americauna, Ameracauna and other spelling variations.
These chicks will still lay colored eggs, but are not purebred.
Easter Eggers have Ameraucana or Araucana ancestors and lay variations of blue or green-tinted eggs

Mis-spellings of the breed names indicate half or part breed chicks
But, don't think that Easter Egger chicks are something to ignore. They still provide fun, colorful eggs. And they are usually very tolerant of cold weather and don't struggle with frostbite. Check out this article for even hardier chicken breeds.
Plus, if the Araucana or Ameraucana chicken breeds ever die out, Easter eggers will be the only remaining chicks that continue to lay blue or green eggs.
Araucana Chicken Appearance
Araucana chickens have two distinct physical features that make them a fun and delightful chicken to add to your flock. They sport ear muffs, or tufts and are tailless or rumpless. Araucana chickens stand more upright than most other chicken breeds. That's a reference to their wild ancestors.
The Araucana's tufts are usually not uniform. They are funny-looking feathers that jut out from the Araucana's cheeks, just under the ears.
Ameraucana chickens may only sport one ear tuft as the same gene that produces the ear tuft can also carry the fatal gene and has been reduced out of the Ameraucana breed.
Another characteristic of Araucana chickens is that they have no tail feathers. They are rumpless. This adds an element of comedy to the looks of your chickens. Those long tail feathers that other breeds sport are missing!
Araucana chickens also sport pea combs. Pea combs are smaller combs that are held closer to the head of the chicken. This also makes them more adaptable to cold weather. Many Easter Egger chickens have continued to carry smaller combs, even if they aren't still pea combs.
The legs of the Araucana chicken have no feathers, They are clean! (This helps it adapt to wet weather). Their legs can be a variety of colors varying between blue and black.
Araucana chickens are a smaller chicken. They aren't as small as bantams, but will definitely be smaller than Leghorns, Rhode Island Reds, and other standard chicken breeds. Easter Eggers also tend to carry the smaller genes of their Araucana ancestors.
Upright standing chicken

Ear tufts sticking out in any direction from their cheeks

Rumpless. No tail feathers

Bare, naked legs that are a blue or black color

Pea combs

Smaller full-sized chicken
Egg Production Of Araucana Chickens
Araucana chickens lay the most lovely, deepest blue eggs around. But, even if you end up with an Ameraucana or a part-breed Easter Egger, you will love the blue and green-tinted eggs.
Araucana chickens weren't raised in super cold weather, although the mountains of the Andes can get cold at times.
As a result, Araucana chickens don't usually lay strongly during the winter. But, they do well in the cold because of their bare legs and pea combs. They don't fight frostbite or tend to struggle in the cold weather as much as many other breeds do.
Easter Eggers usually include some ancestry of cold-weather chickens. As a result, they do tend to still lay their blue or green eggs 2-3 times a week during the winter. The biggest thing Easter Eggers need to keep laying is plenty of good food and water.
Araucana chickens lay about 3-4 eggs a week, or about 150 eggs a year. They start laying at a younger age than most other breeds. The first eggs my new flock started hatching were from my Easter Eggers. Araucana purebreds will lay even earlier than the average Easter Egger (by 2-3 weeks).
Although Araucana chickens don't lay in the winter, they do pick up early in the spring. As soon as it starts to thaw and warm up a little their egg production will quickly resume. It's well worth the wait! They add a delightful addition to your egg variety.
3-4 eggs during the Spring-Fall seasons

Araucana chicks mature faster than most other breeds
Araucana hens also have a tendency to become broody. They love to hatch their own chicks.
Araucana Temperament
Araucana chickens are friendly, easy-going chickens. They will come running when they see you and will tolerate being held or handheld. They are not easily startled and adapt to most circumstances. Araucana chickens do great around kids and thrive in almost any climate.
They are not bullies in a flock and, if anything, may need to be watched to make sure they aren't being bullied. Find out how to stop or prevent bullying.
Watch for your Araucanas being bullied, especially if you have more aggressive breeds such as Leghorns or Rhode Island Reds.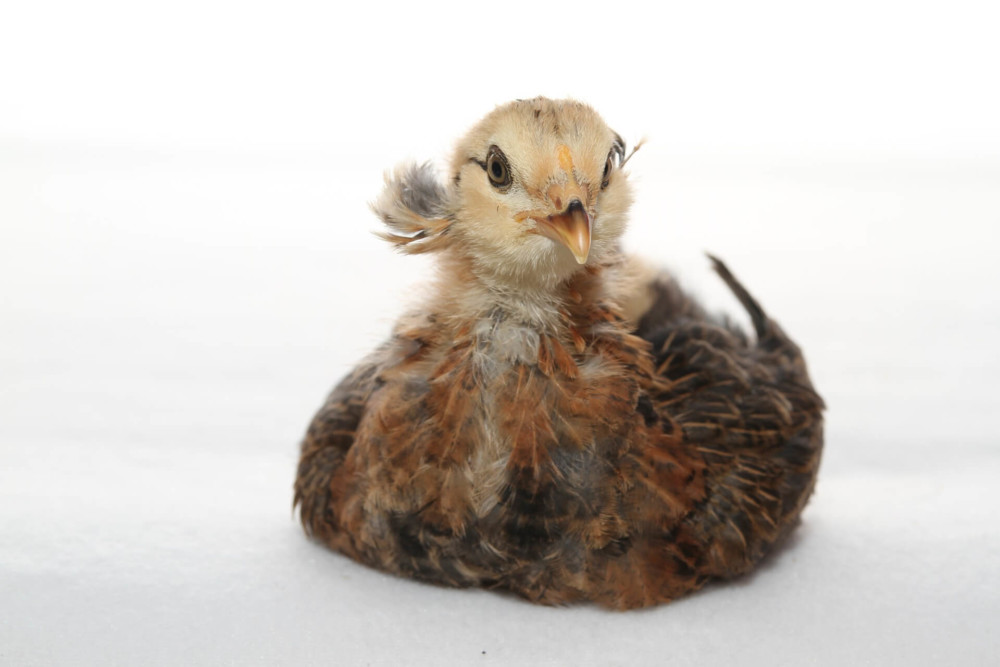 They are also great at free-ranging. They do a great job at finding tasty treats and bugs. Araucana chickens don't like to be super confined. If you have a small backyard, consider keeping only a couple of Araucanas so they don't feel crowded and stifled. They are perfect for more space and the ability to roam and explore.
Araucanas are also wary of predators. Unlike many other breeds, Araucana chickens aren't oblivious to the dangers around them.
They stay alert and aware.
Related Articles
Araucana chickens are a delightful addition to your flock. To learn more about them and other colored egg layers, check out these articles:
Ameraucana, Araucana, and Easter Egger: Blue, Green & Pink Colored Eggs.
The 5 Best Chicken Breeds That Lay Dark Brown Eggs
10 Beautiful Chickens That Add Variety To Your Flock
Recent Posts