Marans chickens, renowned for their distinctively dark eggs, originated from the town of Marans in France. These magnificent birds are highly sought after for their exceptional egg coloring, ranging from deep chocolate brown to rich reddish-brown hues.
Marans chickens are prolific egg layers, capable of producing approximately 150 to 200 large eggs per year. Although their egg production is slightly lower than other breeds, their eggs are treasured for their exceptional quality and taste.
Maran eggs are often favored by gourmet chefs and enthusiasts, who appreciate their delicious flavor and unique appearance. The intensity of the egg coloration can vary among individual hens.
On average, Marans eggs possess a beautiful, earthy tone that adds a touch of elegance to any culinary creation.
Maran Chickens: French Dark Chocolate Egg Layer

s

The Marian hens are lovely brown egg layers and come from Maran, France. The town is a seaport and saw hundreds of years of trading. As a result, local chickens were bred with foreign birds and eventually, the Marans came about.

Maran hens are prized as one of the few dark brown egg-layering breeds
Most Popular Reason For Owning A Maran Chicken
Farmers originally bred Maran chickens as a dual purpose bird because of its fine qualities on the dinner table. Additionally, Marans lay a variety of brown eggs. Some Marans hens will lay very dark chocolate eggs- darker than Barnevelder chicken eggs.
In France, a chicken isn't considered a Maran unless it lays eggs that are at least a 4 in darkness on a scale of 1-9. The egg darkness varies over the summer, consistently lighter until the hens stop laying in the winter.
At the beginning of the spring, eggs will be darker again. This happens each laying cycle.
The French bread the Marans for egg-laying capacity and got them to about 200 eggs a year. In the USA, Marans usually only lay about 3 large, brown eggs a week, or up to 150-180 a year, depending on the strain.
Marans will take time off in the winter from laying eggs. They are broody.
Roosters generally grow to 8- 8.5 lbs (3.65 kgs) and hens grow to 6.5-7 lbs (3 kgs). Marans are fast-growing birds.
Maran Chicken Looks
Marans' nearly ebony eggs are the main reason they are highly prized. Black Copper Marans can have especially chocolaty brown eggs.
Maren chickens have a lot of variety in looks and coloring. Each country has its own standard for "official" acceptance as a Marens chicken.
But, be aware, that the eggs darken with exposure to light. That means that photos of Marans eggs can be easily manipulated.
Marans come in many colors including white, Wheaton and black copper. They also come in birchen, blue, salmon, silver salmon, silver cuckoo, and golden cuckoo. They have a single comb.
Marans live for 6-8 years on average, but some Marans have lived for as many as 10-12 years. Marans were accepted into the American Poultry Standard in 2011 so they aren't considered a heritage bird in the U.S.
But, they are a French heritage bird and have been in France for over 200 years!
Caring For Your Maren Chicken
They are hardy, disease-resistant chickens.
Marans are quiet and gentle birds so they do well as a backyard chicken, but they do like to talk a lot so they aren't great for picky or close neighbors.
They are generally heat resistant. They are great foragers and love lots of space, but they also do well in confinement.
Marans are generally mild and calm birds. They don't bully other chickens. They are also clean birds. They keep their roosting boxes and bedding clean.
Although they are hardy in the winter, they don't do as well in the heat. They are rare in the USA.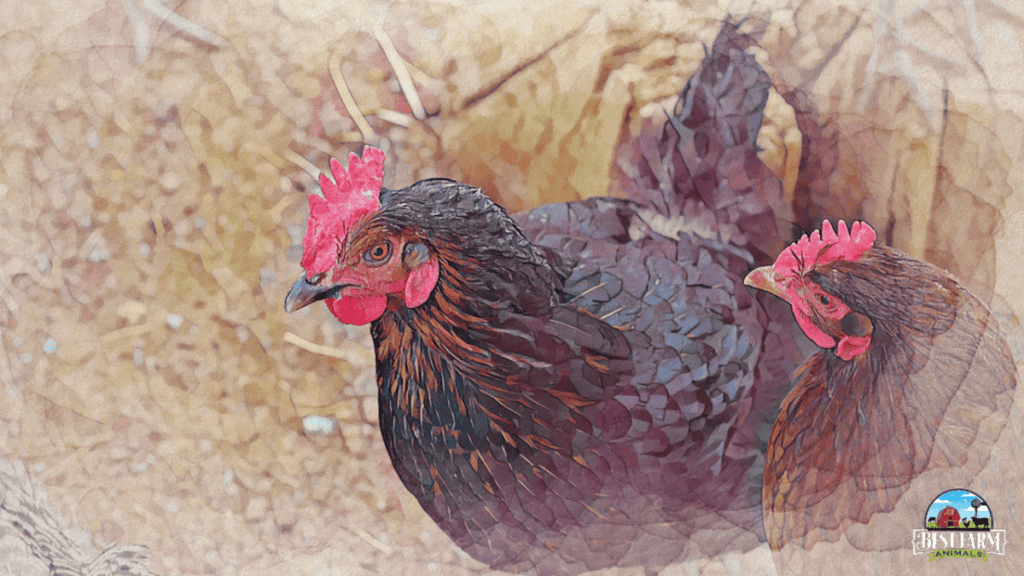 Climate

Personality

Use

Size

Eggs/ Yr

Brooder

Forages

Cold

Gentile

Eggs & Meat

M: 8 lbs

F: 6.5 lbs

150-180

Yes

Yes
Maran Chicken FAQs
What is the origin of Marans chickens?
Marans chickens originated from the town of Marans in France. They were developed by crossing local French barnyard chickens with imported Asian and English breeds. Today, Marans chickens are popular worldwide for their unique dark-colored eggs.
What is unique about Marans chickens?
Marans chickens are known for laying dark-colored eggs, ranging from deep chocolate brown to rich reddish-brown hues. This unique egg color is attributed to the breed's genetic makeup and the deposition of pigment called oocyanin on the eggshell during formation.
The intensity of the egg color can vary among individual hens, with some producing darker eggs than others.
How many eggs do Marans chickens produce?
On average, Maran chickens lay approximately 150 to 200 large eggs per year. This egg production can vary depending on factors such as the individual hen's health, diet, and environmental conditions.
While Marans chickens may not be the highest egg producers compared to some other breeds, their eggs' quality and unique coloring make them highly sought after.r.
Are Marans eggs widely appreciated?
Maran chicken eggs are highly valued for their exceptional quality, flavor, and unique appearance. Gourmet chefs and egg enthusiasts particularly favor them.
Do all Marans chickens lay dark eggs?
The intensity of egg coloration can vary among individual Marans hens. While most Marans lay dark eggs, the shade and depth of color can differ. Factors such as genetics, diet, and age can influence the darkness of the eggs.
Are Marans chickens good layers?
While Marans chickens may not be the most prolific egg layers compared to some other breeds, their eggs' quality and taste make them highly desirable. Marans hens typically lay consistently and can be a great addition to a backyard flock for egg production.
Can Marans chickens be raised in various climates?
Marans chickens are adaptable and can be raised in various climates. They do best in moderate climates. They have a thick plumage that provides insulation against cold weather, making them more tolerant of colder climates. However, they may struggle in extremely hot or humid conditions. With proper care and accommodations, Marans chickens can thrive in various climates.
What other characteristics should I know about Marans chickens?
Marans chickens are medium to large in size, have feathered legs, and come in different color varieties. They are known for their calm temperament and make excellent backyard or farmyard additions.
Are Marans chickens suitable for beginners?
Marans chickens can be suitable for beginners as they are generally easy to care for and have a friendly disposition. However, like any breed, proper research and preparation are important before acquiring them.
Where can I get Marans chickens?
Marans chickens can be obtained from reputable hatcheries, local breeders, or poultry associations specializing in this breed. Check out Welsummer chickens as another chocolate egg layer.
My Favorite Chicken and Duck Supplies
This list contains affiliate products. Affiliate products do not cost more but helps to support BestFarmAnimals and our goal to provide farm animal owners with accurate and helpful information.
Manna Pro Oyster Shell keeps eggs strong. Before I gave my chickens oyster shell, I had the oddest eggs, many with weak and irregular shells. Now, I don't have an issue.
Layer Feed by Manna Pro. I like pellets rather than crumbles as my chickens eat them better and less gets wasted or scavenged by rodents. A good layer feed makes the difference in hens laying many more eggs.
My chickens love this mealworm treat, which gives added protein, something that's great during molting and winter months.
There are many ways to feed and water your chickens. I like this food and water setup the best because it reduces waste, saves me time feeding and watering, and keeps the food fresh longer. Except, in the winter, I use a heated waterer. The only problem is the heated waterers need to be replaced every few years.
I love this chicken veggie hanger. It makes it easy to give your chickens produce from the garden and keep them occupied in the winter with a fresh head of lettuce.
These chicken toys are a hoot! They will help curb bullying and keep your chickens active, especially in the winter when hens tend to get more lethargic.