Best Oriole Bird Feeders
Orioles feed on open platforms. You can put oriole food in an open dish, but there are some super cute, and useful feeders available. My favorite is the Birds Choice Oriole Feeder. It offers three ways to feed orioles.
It has four feeding ports and a rod to skew orange halves. It also contains nectar feeding ports and dishes for jelly. It's all-around useful. It's also easy to clean.
You can check out the price on Amazon here.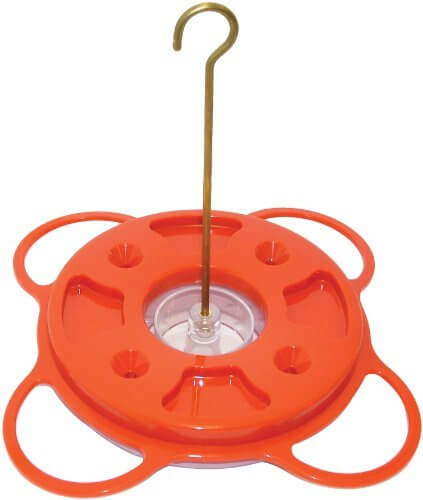 Best Hummingbird Feeders
Hummingbird feeders usually have red because it attracts hummingbirds. The Aspects HummZinger HighView Hanging Feeder is no exception. This is a great feeder. It is a bowl with hummingbird ports, which makes it easy to access and to clean.
It's one of the highest-rated hummingbird feeders available.
It has a built-in ant moat to prevent ants from getting in and stealing your nectar.
Check out the price on Amazon.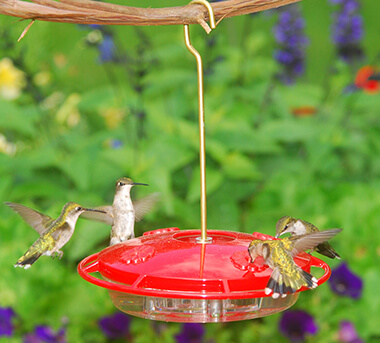 Best Bluebird Feeders
The best all-around bluebird feeder is the Droll Yankees Domed Bird Feeder. It provides a place for you to place the mealworms with a steep side so they don't crawl out. It also has a dome over the top, which protects the worms from the elements and keeps them from going bad. There are also small holes in the bowl, which helps to keep worms dry.
Bluebirds can easily find and eat from the feeder. Everything is clear so it's easy to see. The dome also helps to keep pesky birds from eating your mealworms and can be adjusted.
Plus, it's easy to clean.
Check this feeder out on Amazon.
Another option is a caged bluebird feeder. It keeps out squirrels and larger birds. This one is hardy and easy to clean. It's bright blue, which attracts bluebirds. The cage is welded so it's more durable than other similar feeders.
You can check this feeder out here on Amazon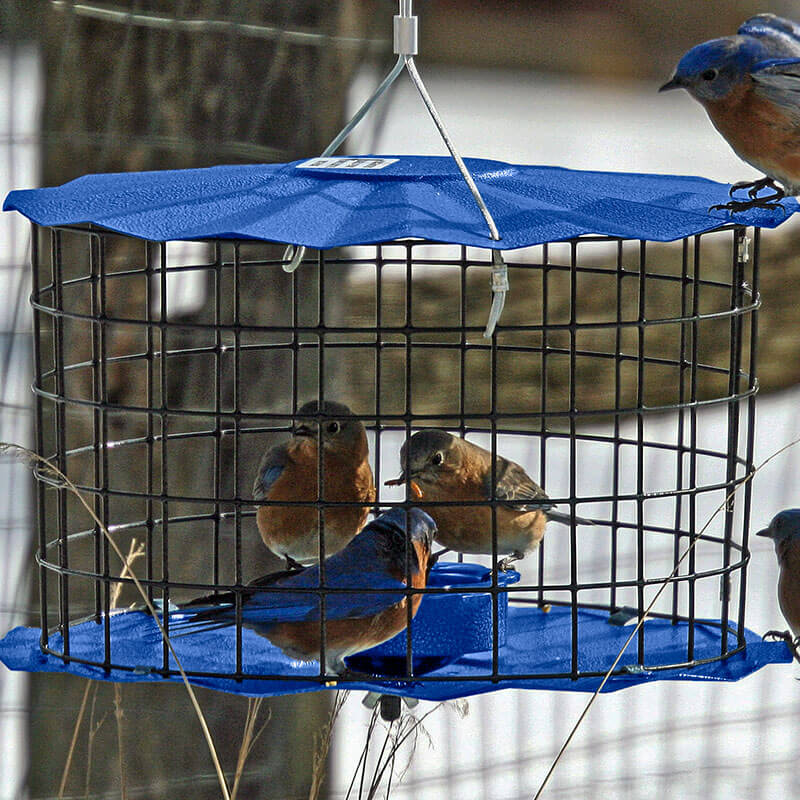 Nyjer Finch Feeders
Most nyjer feeders have small holes that prevent the nyjer seed from spilling. This means that when they get moisture in, they seldom dry out quickly. This causes the nyjer seed to mold. Be aware of this issue and watch your nyjer feeders for moisture buildup.
Droll has a great bird feeder for finches. It offers 8 feeding ports. It is designed to empty the seed. The holes are small enough that only nyjer seed can get out, which prevents spills from larger birds.
It's pretty easy to disassemble and clean up.
Check out the price on Amazon here.
Best Suet Feeders
Suet can come in cake form, crumbles, or balls. You can buy it or make it yourself. The type of cage you want will be determined by the type of suet you want to use.
If you are planning to make or buy suet cakes, then Stokes Select Suet Feeder is a great choice. It fits all standard suet cakes. It's also easy to clean and durable. It's also one of the lowest cost feeders available.
Check out the price of this feeder on Amazon.
You can also use mesh bags to hang suet or other handmade containers. Check out our article on suet here for more ideas.